PortalProdigy's Shopping Cart Feature in details
Posted on 8/6/2013
Shopping Cart Feature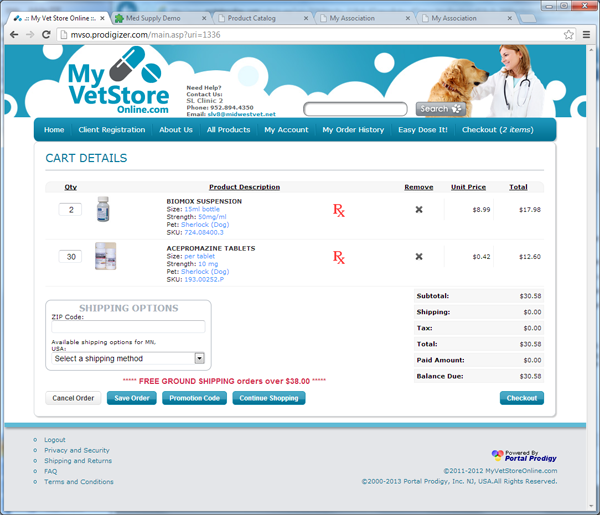 State of the art shopping cart with single page checkout streamlines transaction process resulting in less fallout and more sales. Attractive cart design includes pictures of products. Option to calculate shipping prior to checkout with pricing displayed for all shipping options increases customer satisfaction.
Also includes option to apply promotion codes prior to checkout. Offer special promotions at checkout including club membership with discounts. New customers are automatically registered in the system.
Customers have option to save credit card and shipping information on file for speedier checkout when returning. If customer has terms they are automatically made available as payment option.
Credit balance is automatically checked and customer notified if order exceeds it. Capture purchase orders and shipping instructions. Allow customers to apply gift certificates.
Gift certificate balance is automatically checked and customer prompted for additional payment method if order exceeds balance. See the Payments Feature for more information about payment options.
About Brolin Corporation

Brolin is a software developer, providing quality custom software solutions and software products. Brolin incorporated in 1994 with the objective of lowering the cost for quality software development. One of the steps to achieve this objective was to establish offshore development operations in the country of Bulgaria. Brolin established its software development operations in Sofia, Bulgaria in 1994 and since then has successfully completed many assignments for clients both large and small. Some of Brolin's well known corporate clients include Bank of America, CB Richard Ellis, Fleet Bank, Jones Lang LaSalle, Platinum Software, Sempra Energy, Siemens, Sun Microsystems, and Travelers Insurance.
Brolin has a strategic alliance with PortalProdigy as the developer of PortalProdigy's software.
Brolin Corporation Contact
Brock Miller
Tel: 800.268.6649
Email: Brock@Brolin.net